First of all, you're welcome. I hereby save you from reading articles with titles like "You won't believe how hot these classical musicians are!" Me, I've always been a pretty naïve person when it comes to the good intentions of others, so my first reaction was "Yes! Exactly! Classical music is so hot right now!" Yeah – spoiler alert! – the internet is a terrible place and that's not what anyone means. So, we're not gonna do that here, mmkay?
Instead, I'm going to let you in on who musicians and classical music lovers talk about. Who are you most likely to read an article about right now? Who should you YouTube? Who might you see on TV and get the amazing opportunity to go "ohhh, yes… but Jaap is really no Dudamel" and sound SO CLASSY.
The following were chosen either because they're very topical (i.e., they've got a lot going on ATM), or they're very interesting and active on social media – or, usually, both. There are obviously a bajillion amazing classical musicians out there, and I really, REALLY encourage you to get to know more of them. But you've gotta start somewhere, so without further ado, here's a list of 10 Classical Music Celebrities You Really Ought to Know:
Giants of classical music are often referred to only by their first or last name, or by a nickname. Jaap (as in "shut your yap") is no exception. This is the Dutch conductor's first season as the music director (that means "main conductor") of the New York Philharmonic (which, as you can probably guess, is kind of a big job). He started as a highly successful violinist before transitioning to conducting relatively far along into his career. His appointment at the Phil came somewhat out of left field, stunning New Yorkers and classical music fans everywhere, and terrifying orchestra players who had heard he can be a real bear in rehearsals. He's known for being… how do we say… not very subtle in his conducting, but he's filled with artistic passion, he's a notable philanthropist (particularly for causes related to autism), and he's known for having very high standards. He's under intense scrutiny given his high profile post and big personality, so keep an eye on him.
The man, the myth, the giant head of hair, Dudamel (DUDE-a-mel, like a dude caramel) has been the music director of the LA Phil since 2009. He first became famous for his work with the El Sistema state-sponsored music education program in his native Venezuela – which is particularly awesome, given that Dudamel himself had participated in the program as a child. While he was also building his professional career around the world, Dudamel became the conductor of the Simon Bolivar Orchestra (the touring youth orchestra of El Sistema), and in that capacity he attracted world-wide attention. That attention continues in LA, where he has made classical music hip and exciting again, where he commissions and performs important new works, and where he basically shreds it up every time he's on the podium. (Pretty much) everyone loves Dudamel. See: this article from the New York Times Magazine if you don't believe me.
My Canadian buddy! Ok, we're not actually friends. But maybe one day. Anywho, Yannick (yah-NEEK) is SO HOT RIGHT NOW. He's somehow everywhere at once. He's the music director of the Philadelphia Orchestra AND the Met Opera. Plus, he keeps one foot in his hometown by remaining music director of Montréal's francophone Orchestre Métropolitan. And, AND!, he frequently appears as guest conductor of some of the world's most prestigious orchestras and opera companies. He's a high energy, fun loving, fabulous French Canadian, and he is a DELIGHT.
Yuja Wang (YOU-juh WANG) is best known in popular culture for her audacious (read: super stylish and extremely sexy) concert attire, but she's also known by classical music lovers for her intelligent, colourful, thrilling performances around the globe. The Chinese pianist is equally as famous for her recitals (solo concerts) as she is for her appearances with the world's biggest orchestras. She's a wonderfully divisive figure in classical music today – sometimes revered for her brash virtuosity, sometimes not so much – so you should probably know who she is.
Hahn was a child prodigy who somehow turned into a really interesting successful adult human. After making her professional solo debut with the Baltimore Symphony Orchestra at the ripe old age of 11, Hahn became an international superstar of classical music, and has remained relevant, exciting, and exceptional since then. Her social media accounts are often written from the perspective of her violin case, and they are splendid. She also started #100daysofpractice on Instagram, where she posts snippet videos of practicing and key takeaways on the journey for, you guessed it, 100 days straight. She's both brilliant and fascinating.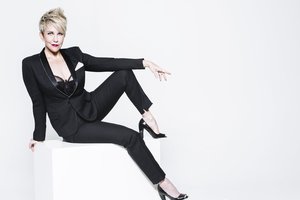 I'm a singer, so it was SUPER hard to pick a singer for this list. Oh lord help me it was hard. I kept writing and rewriting this section… so, I asked my trumpet player husband who he would pick, and he chose Joyce DiDonato. And he was obviously so right, because DiDonato is at the absolute top of today's list of opera superstars, and you're VERY likely to (a) encounter her in popular culture/social media, and (b) love her. She's an outspoken mezzo-soprano (a colourful, lower voice) who does rad recital tours and is often at the world's biggest opera houses in epic productions. Follow her on social media and fall in love with her, just like everyone else has.
Ok, so I cheated on the singer selection and chose a second one: classical music's baddest bitch. Hannigan is known for being "that soprano who is also a conductor," and I don't mean she can either sing or conduct (though she does do both on their own)… oh no. She will also sing AND conduct simultaneously, making her super exciting and also a great deal for orchestras hiring her (jk). She won the Grammy last year for Best Classical Solo Album for a super non-mainstream recording of extremely challenging pieces (she sang and conducted, of course), she tours pretty much relentlessly (doing wildly different gigs week to week), and she's Canadian. What's not to love?
You already know Sheku (SHAY-koo) as "that cello guy from Meghan Markle and Prince Harry's wedding." He was the 2016 BBC Young Musician of the Year (it's a big thing, so it's always worth noting who wins it), his debut album just came out to critical acclaim, and he's in the midst of making all of his debuts at the world's biggest recital halls and with the major orchestras. His six siblings are also all talented classical musicians, and he's had more than one recording go viral on YouTube. All in all, a very interesting young musician to follow, and unsurprisingly, a wildly talented one to boot.
I was also really struggling to pick a composer for this list, since there are SO MANY exciting composers doing incredible things right now. So, I did what any sane person would do: I watched TV. And I'll be damned if Nico Muhly wasn't on one of the first episodes of Mozart in the Jungle (which musicians simultaneously kinda love but mostly hate, so I'll dive into it at some point). Anywho, Muhly it is. He just had a smash hit at the Met with his new opera Marnie, based on a novel that was also a Hitchcock movie. He's done lots of really cool collaborations (including with Sufjan Stevens and The National), has written for a wide variety of ensembles and settings, and is a wonderfully outspoken and opinionated human (I fell down the rabbit hole of his archived blog for an embarrassing amount of time while writing this). Ups for Muhly, check him out.
Last but CERTAINLY not least, one of the greatest musicians and music advocates of our generation: the man musicians often just call "Wynton." He's a world-famous trumpet virtuoso, Artistic Director (band leader) of the Jazz at Lincoln Center Orchestra, was the first jazz musician to ever win the Pulitzer Prize, and was the first person to ever win Grammys for both classical and jazz in the same year. Right now, you will often see him on CBS, where he's the network's Cultural Correspondent. He tours relentlessly, gives generously, and is one of those rare humans who seems to emit light and love in everything he does. Wynton: one of the greatest among us.